A capsule wardrobe is by no means a new idea. But every time a new year rolls around, it seems to become a fashion buzzword. As a society, we have adopted this unusual, fervent desire to revamp every aspect of our lives when given an opportunity to start afresh. We seem to be motivated by a cultural idolisation of appearing put together and in control. As such the term capsule wardrobe has risen in popularity, and been hitting our screens frequently in recent weeks.
Forget The Fuss of The Fads
Experts publish guides aplenty advising you how to declutter your home and wardrobe. There is an unspoken suggestion that this will consequently sanitise your mind of a brain fog interlinked with mess. Many capsule wardrobe enthusiasts will encourage you to be extremely disciplined in the manner in which you adopt this way of dressing. And, there are many who will turn their nose up at any bend in the so-called 'rules'.
We aim to neither insist that there is a deep emotional need for a capsule wardrobe, nor intimidate you with the idea. Instead, we want to explain to you the easy way to develop an effortless capsule wardrobe. We want to show you that it is nothing more than simply being more conscious about what you wear. With many years of styling experience, we have been able to see the true benefits of detoxing your wardrobe. We want to share with you our tips on meticulous and methodical dressing. And yet, at the same time, ensure you never lose that special magic and fun so many of us associate with fashion! Here is our guide to curating your own capsule wardrobe the easy way. Follow these tips provided by our resident Personal Stylist, Jasmin Teichtmeister.
7 Steps to Curate a Capsule Wardrobe
1 Divide your capsule wardrobes into seasons
Don't be too strict to yourself at the beginning. Starting the path towards minimalistic style can be challenging. That is why the capsule wardrobe should be divided into seasons. You won't be wearing the same items in summer and winter. So depending on the season you are starting, start with a capsule wardrobe for the upcoming one. For us at the time it will be spring. So we are aiming for capsule wardrobe transitioning from winter to spring season.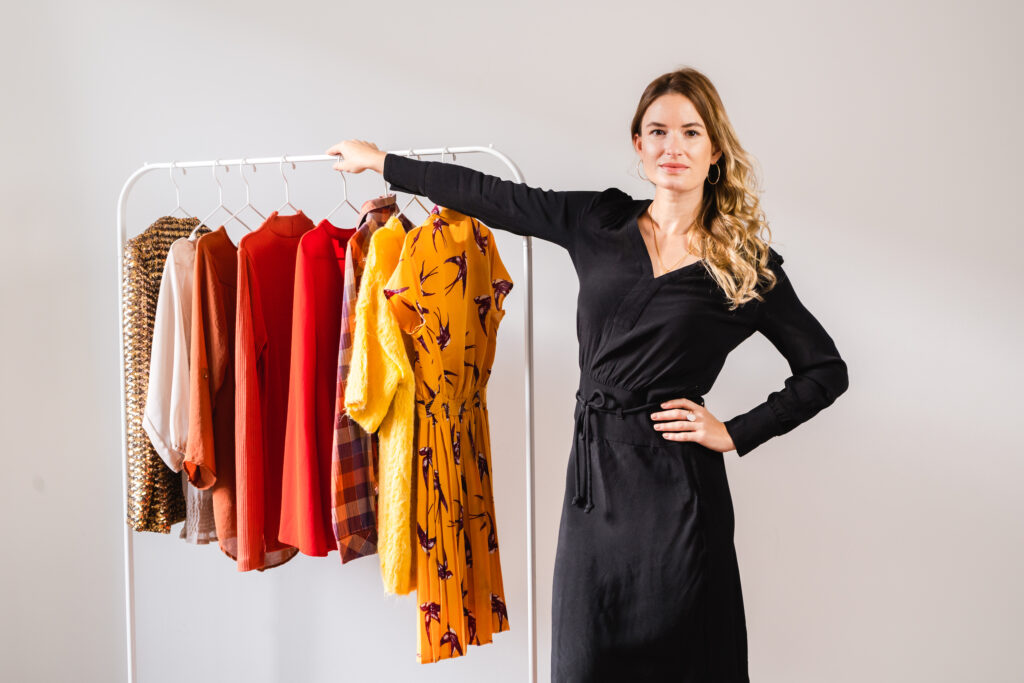 2 Determine your future style aesthetic
Before you start the process, it is essential to determine your ideal style. Which style bracket suits you best?
Some examples:
Classical Style
(Jeans, T-shirts, Blazers, Suit Pants, Blouses, Pumps)
Feminine Style
(Skirts, Body Hugging Dresses, Floral Prints)
Modern Minimalistic Style
(Organic Fabrics, Oversized Cuts, Wide Trousers, Subtle Colours, Sneakers, Comfy Clothes)
There are of course an indefinable number of style types. The main objective is to have a clear idea of the type of look you are aiming for.
3 Define your body type
It is essential to know which cuts and fabrics look best on you. You should learn to enhance certain features of your body shape. If you don't know your body type, we offer a free body type test.
4 Create a flattering colour palette
Select your favourite colours and try to collate them into a tonal colour palette. Select some basic colours and add a few other statement colours that can be great for bold accessories. Try to figure out which colours look good on you with your skin colouring (cool vs. warm). It is most important to wear flattering tones closest to your face.
5 Collect your favourite items
Get the favourite pieces of your wardrobe which you would like to wear for the upcoming season. After collecting these you will quickly notice what items your wardrobe is abundant in, and what items you are lacking. If you don't have all your dream items together, don't feel a pressure to rush to the shops. Simply start a wish-list of items that could elevate your capsule wardrobe and reflect on these over the coming months.
6 Detox your closet
When attempting to curate a capsule wardrobe, the items you will be wearing should be in good condition. This means no holes, no faded colours, no pilling. You should feel confident wearing all of your items. Our tip is to invest in higher quality garments for future favourite pieces. It is helpful to consciously purchase products that will last longer, so thought your wardrobe doesn't constantly need to be replenished.
7 Combine your looks & take photos
Now for the fun: styling combinations & logging outfit pairings! Take a pair of trousers and try as many different tops, jackets & accessories with it. The key to a capsule wardrobe is using items in many different ways. Be daring in what you combine. Find every use of an item possible. For example, try using a shirt as a light jacket or a dress as a skirt – get creative. For help with getting more out of your wardrobe – take a look at our inspiring Style Poker cards! This deck of style prompts are great for getting more use out of the most minimalistic wardrobes.
If you need a hand creating your very own capsule wardrobe, we offer a wardrobe detox service to help you refine your wardrobe.