Interpreting Vogue's 2022 Fashion Trends for the Wider Community
In modern society, the month of January has become synonymous with a need to reassess and reset. People often lay their lives flat out in front of them. They begin to pick out their imperfections & shortcomings, before making confident promises to begin exercise, learn a language, or read more. Although the intent can be positive, the reality is that we have adopted an unhealthy habit of constantly critiquing ourselves.
At Pur Style, we felt reluctant to provide an article that encourages you to reinvent yourself & your styling habits. Dont' follow all fashion trends, as this would suggest your current image is inadequate, and needed to be completely overhauled.
We prefer to champion intrepid styling.
Unlike other styling services and resources, our advice at Pur Style is centred around supplementing and embellishing your own Personal Style, equipping you with the tools and knowledge to become more confident and assured in dressing yourself for every occasion. We recognise that at this time of year, the leading fashion magazines publish trend predictions for the year. These can often seem loose and vague, dauntingly avantgarde. Sometimes only suitable for a certain type of consumer, whether that be dictated by age, gender or body type.
Therefore, we wanted to curate for you an all-encompassing and inclusive guide to 2022 trend predictions. Offering you our own, more functional interpretations of the red-hot trends that are storming this year ablaze with media buzz. As avid magazine readers, we took the mothership Vogue, for inspiration, began to reinvent their 2022 predictions, applying our own more practicable gaze.
#1 That Daring Mini Skirt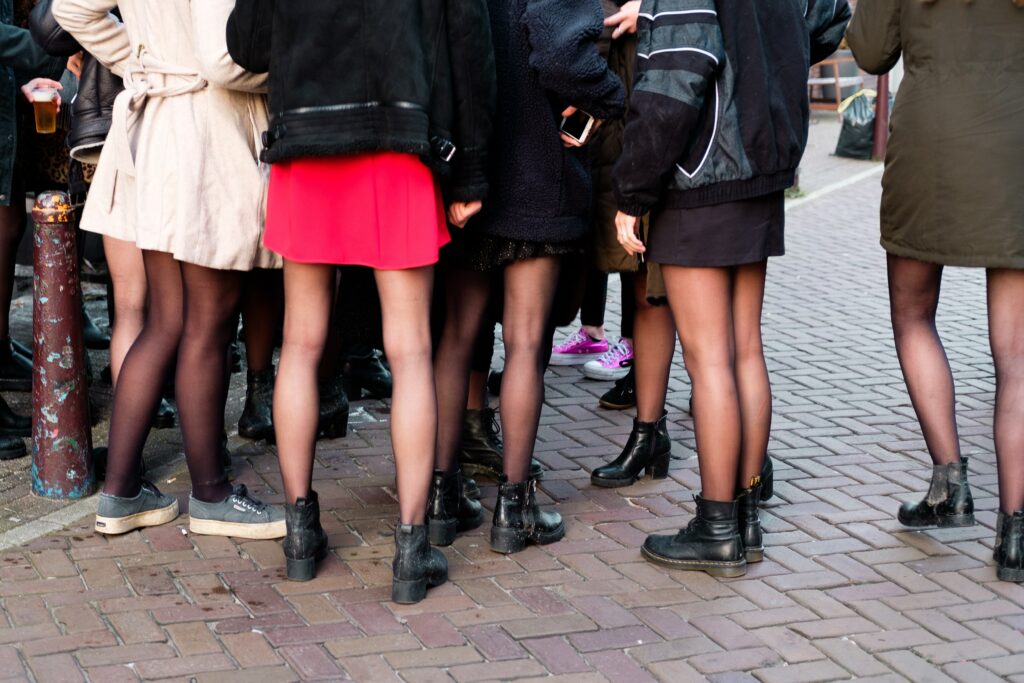 This year Vogue has told us to expect more and more leg as the winter months melt into spring. Their trend prediction of "Micro Mania" sees our hemlines getting shorter and shorter…. as Mary Quant's mini quite literally becomes ever so mini. Whilst our younger audience, and the body confident among us, might welcome this trend with open arms, for many of us this trend, that applauds a shrinkage in clothing, is something we will happily swerve and never become part of. Read this, if the world of thigh slits, body-hugging fabrics, and cropped hems is your traditional enemy. Here are 3 ways to embrace the homage to Quant, whilst remaining comfortable and confident.
Hold On To The Boots!
If bare legs are something you shake your head at, why not pair your mini with tights & overknee-boots? Tights these days aren't just the staple of school girls. With bright patterns and colours aplenty, you can make those warming tights a key feature of your spring look.
Go Androgynous.
Who ever said the mini skirt had to be worn alone? Try wearing a tailored suit trouser, or different cuts of jeans under your skirt.
Find A More Friendly Fit.
If the tight & cinched styles aren't for you, opt for a T-shirt dress or jumper dress. This is a trick how to keep that cropped hemline of a mini skirt without looking too sexy.
#2 Bold Brights: Here, There and Everywhere
The Vogue 2022 fashion trends guide encourages us to ditch neutrals. This year spring and summer is all about colour clashing and being experimental in our shades and tones. This trend is full of artistic liberation, and Vogue has aptly chosen to name this colourful phenomenon "Colour Me Free". As much as we are here for this fun approach to fashion that has become to known to some as Dopamine Dressing, we understand just how hard it can sometimes be to find 'your colours'. Here are our top tips for finding your signature bright shade this spring.
For warmer skin tones, try orange, yellow and sunset colours, as well dark greens. You need to try and find strong colours with warm undertones.
For cooler skin tones, try bright pinks, violets and blues. Also, bright reds with blue undertones look great on you.

Still stuck? If your preferences don't match these recommendations, feel free to experiment.
A good trick is to use this colour theory to wear the most suitable colours closest to your face. Then go ahead and mix and match with trousers or shoes.

Jasmin, Personal Stylist and Founder of Pur Style
#3 Scarily Sexy Sheer
Third on the list, is this new addiction with sheerer and lacier fabrics. Translucent and airy garments seem to be the so-called "New Sexy", according to the fashion editors. Philipinne Leroy-Beaulieu prooved there is no age-limit to look sexy in a sheer dress. We can't tell you how much we love this powerful outfit! But, whilst these sultry and delicate blouses and dresses made from chiffon and organza look gorgeous on the red carpet or in fashion shoots, showing more and more skin certainly isn't everyone's cup of tea in the day-to-day life.
Here are our two ways to join in on this fabric craze whilst remaining a bit more covered.
1. Embrace the Layers!
Why not play with the transparency of these fabrics by adding different colours and patterns underneath? Go two-tone with a roll neck under a sheer dress, or layer a fine sheer blouse over a strappy vest top.
2. Focus on the Accessories
If sheer clothing lies way out of your comfort zone, try accessorizing with these fine fabrics instead. Sheer detailed socks or tights can really add texture and an extra something to outfits.
#4 Y2K revival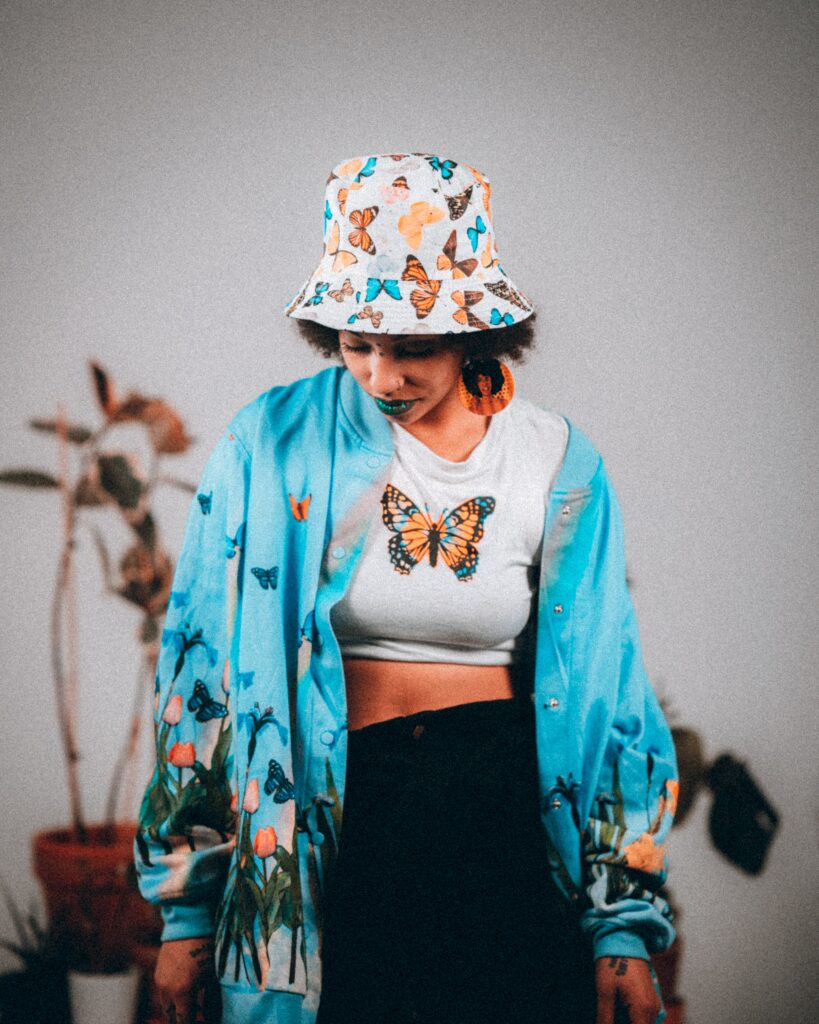 Repeating trends and the circularity of our fashion is something that sparks lots of interest among fashion communities, and 2022 will be no different as consumers continue to pay praise to the millennium era. For sure, you have some treasures from this era in you closet. If you want to have fun getting dressed with your own clothes & come up with trendy outfits in a sustainable way, Style Poker is for you!
Celebrities of the 00s are notorious for their love of low rise jeans and tiny crop tops. There are many other Y2K trends you can adopt whilst avoiding exposed midriffs and spending more money.
Why not take inspiration from some of the favourite fabrics of your Y2K fashion icons? Double denim looks and velour tracksuits where all the craze back then, and can surely make a come-back in 2022. If this sounds a bit too striking for your preferences, why not chose denim or velour for your bag instead?
Bandanas, Baguette Bags & Butterflies
These are 3 B's of the Y2K aesthetic, and predicted to be big in 2022. Look out for hankie prints and butterfly patterns to hit the high-street this summer.
Platform Shoes and Statement Hats
As the weather gets warmer, bag yourself a pair of chunky platform sandals to stomp into summer with. Whilst bucket hats have been trending in penultimate years, get ready for them to keep getting more brazen.
---
We hope you enjoyed our all-inclusive 2022 fashion trend report, and feel inspired to look through your closet. Surely, you have many of the trend items at home. Try to style them in a trendy new way and you are ready for 2022.